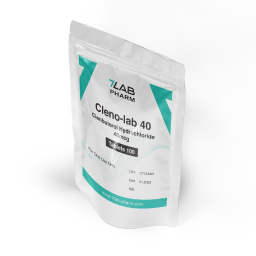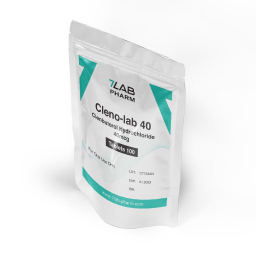 Weight Loss / Fat Burn
Cleno-Lab 40
Beta-2 Agonist, Bronchodilator
Active Ingredient: Clenbuterol Hydrochloride
Concentration: 40 mcg / pill
Price For: 100 pills
Brand: 7Lab Pharm
BEST BEFORE
exp. date: 01.2023
Cleno-Lab 40 Detailed
Original Cleno-Lab 40 by 7Lab Pharma
Cleno-Lab 40 contains 40 mcg of Clenbuterol Hydrochloride and is brand product of 7Lab Pharm.
Specifications
Duration of Action: 48-72 Hours
Recommended Dosage: 40-160 mcg/day
Acne Manifestation: No
Water Retention: No
High Blood Pressure: No
Aromatization: No
Hepatoxicity: No
Clenbuterol can be purchased at many local pharmacies, it is available in the form of: syrup, spray, tablets, capsules, but it is sold by prescription. On our website you can buy Cleno-Lab 40 from 7Lab Pharma without a prescription. In medicine, this medication was used in the treatment of bronchial asthma.
Cleno-Lab 40 is used by men and women for quick weight loss for 1 month to 5 - 6 kg. This drug shows its fat-burning properties under the condition of proper nutrition, mandatory diet and a well-set training process. Athletes use it as an effective fat burner if necessary to move to a lower weight category or before going on stage.
Cleno-Lab 40 is not a steroid or hormone, it has a weak anti-catabolic effect. There is no need for post-cycle therapy (PCT).
Its main action is to activate the sympathetic nervous system, as a result of which lipolysis (the metabolic process of fats breakdown) is triggered. This is a necessary process to obtain the desired shape and weight loss. High-quality and original Cleno-Lab 40 can be found in our online store in the catalog of fat burners, and it is also safe to purchase it with worldwide delivery.
According to reviews, Cleno-Lab 40 from 7Lab Pharm has an impeccable reputation.
Main effects
fat burning effect;
slight increase in strength;
decreased appetite.
Possible Side Effects
Increased body temperature (can also be attributed to positive effects, indicates the acceleration of metabolism);
Increased blood pressure, insomnia;
Tremor of limbs;
With prolonged use and increased dosages, it can cause hypertrophy of the heart muscle.
Basically, all side effects can be avoided by following our recommendations.
Be sure to take thyroid tests before cycle, T3 total and T4 free, if any of the indicators are above or below, Cleno-Lab 40 should not be used categorically!
If you have issues with high blood pressure, you should reduce the dosage. The dosage of this drug should not exceed 100-150 mcg per day (dosage in 120 mcg - 3 tablets, calculated for a guy of 100 kg).
Usage and Dosage
Cleno-Lab 40 cycles are often supplemented with Ketotifen at a dosage of 1 mg at night to eliminate problems with tremor. Ketotifen also restores the sensitivity of receptors to the active substance, therefore, two protocols for taking drugs are distinguished:
14 days course
- Cleno-Lab 40 Solo
* can be used both solo and in parallel with ketotifen.
28 day course
- Clenbuterol + Ketotifen
* The first 14 days of Cleno-Lab 40 solo and the next 14 with Ketotifen.
Such cycles can be repeated at intervals of 2-4 weeks, but the lipid profile should be monitored for cholesterol assays (HDL and LDL).
Start with a dosage of 20 mcg in the morning before eating, evaluate your condition. Next, add 20 mcg of Clenbuterol to the main dosage every day until you reach the working dosage.
An example of using Cleno-Lab 40 solo or Cleno-Lab 40 + Ketotifen can be found in cutting cycles.
It combines with all steroids during a cycle to reduce subcutaneous fat. Use in post-cycle therapy is not advisable.
Cleno-Lab 40 is especially popular in conjunction with Testolab-P 100 (E2 control), Mastolab-100, Trenolab-A 100, Stanolab-50 and Oxano-Lab.
Cleno-Lab 40 Reviews
Please log in to write Cleno-Lab 40 review.
BodyPharm
Beta-2 Agonist, Bronchodilator
Active Ingredients:
- 80 mcg of Clenbuterol Hydrochloride
- 6 mg of Yohimbine Hydrochloride
Mixed Concentration: 6.8 mg / mL
Price For: 10 mL Vial
Brand: BodyPharm LTD
Sciroxx
Beta-2 Agonist, Bronchodilator
Active Ingredient:
Clenbuterol Hydrochloride
Concentration:
40 mcg / pill
Price For:
100 pills
Brand:
Sciroxx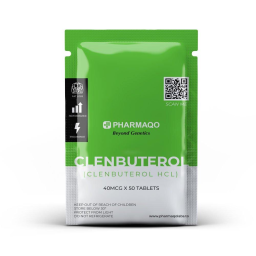 Balkan Pharmaceuticals
Beta-2 Agonist, Bronchodilator
Active Ingredient:
Clenbuterol Hydrochloride
Concentration:
40 mcg / pill
Price For:
100 pills
Brand:
Balkan Pharmaceuticals
Kalpa Pharmaceuticals LTD, India
Beta-2 Agonist, Bronchodilator
Active Ingredient:
Clenbuterol Hydrochloride
Concentration:
40 mcg / pill
Price For:
100 pills
Brand:
Kalpa Pharmaceuticals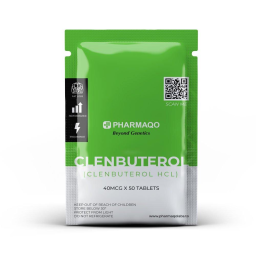 Dragon Pharma, Europe
Beta-2 Agonist, Bronchodilator
Active Ingredient: Clenbuterol Hydrochloride
Concentration: 40 mcg / pill
Price For: 100 pills
Brand: Dragon Pharma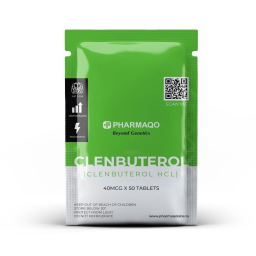 BodyPharm
Beta-2 Agonist, Bronchodilator
Active Ingredient: Clenbuterol Hydrochloride
Concentration: 40 mcg / pill
Price For: 100 pills
Brand: BodyPharm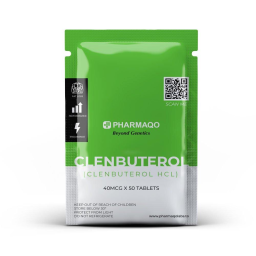 Ice Pharmaceuticals
Beta-2 Agonist, Bronchodilator
Active Ingredient: Clenbuterol Hydrochloride
Concentration: 40 mcg / pill
Price For: 100 pills
Brand: Ice Pharmaceuticals
SP Laboratories
Beta-2 Agonist, Bronchodilator
Active Ingredient:
Clenbuterol Hydrochloride
Concentration:
40 mcg / pill
Price For:
100 pills
Brand:
SP Laboratories
SP Laboratories
Beta-2 Agonist, Bronchodilator
Active Ingredients:
Clenbuterol, Yohimbine
Concentration:
40 mcg / mL
Price For:
10 mL Vial
Brand:
SP Laboratories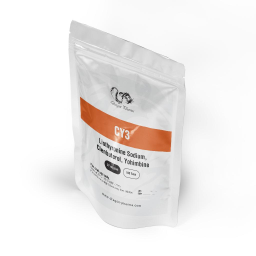 Dragon Pharma, Europe
Beta-2 Agonist, Thyroid Hormone
Active Ingredients:
- 37 mcg of Clenbuterol Hydrochloride
- 25 mcg of Liothyronine Sodium
- 5.4 mg of Yohimbine Hydrochloride
Mixed Concentration: 6.02 mg / pill
Price For: 100 pills
Brand: Dragon Pharma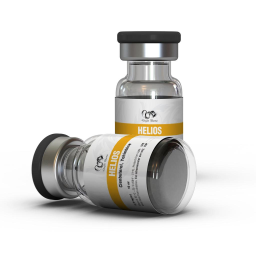 Dragon Pharma, Europe
Beta-2 Agonist, Bronchodilator
Active Ingredients:
- 30 mcg of Clenbuterol Hydrochloride
- 5.6 mg of Yohimbine Hydrochloride
Mixed Concentration: 5.9 mg / mL
Price For: 10 mL Vial
Brand: Dragon Pharma
Beligas Pharmaceuticals
Beta-2 Agonist, Bronchodilator
Active Ingredient: Clenbuterol Hydrochloride
Concentration: 40 mcg / pill
Price For: 50 pills
Brand: Beligas Pharmaceuticals
Zerox Pharmaceuticals
Beta-2 Agonist, Bronchodilator
Active Ingredient: Clenbuterol Hydrochloride
Concentration: 40 mcg / pill
Price For: 100 pills
Brand: Zerox Pharmaceuticals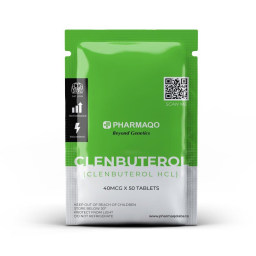 Gen-Shi Laboratories
Beta-2 Agonist, Bronchodilator
Active Ingredient: Clenbuterol Hydrochloride
Concentration: 40 mcg / pill
Price For: 54 pills
Brand: Gen-Shi Laboratories