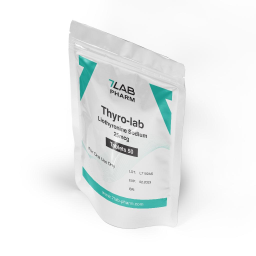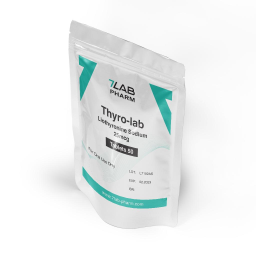 Weight Loss / Fat Burn
Thyro-Lab
Thyroid Hormone
Active Ingredient: Liothyronine Sodium
Concentration: 25 mcg / pill
Price For: 50 pills
Brand: 7Lab Pharm
Thyro-Lab Detailed
Original Thyro-Lab by 7Lab Pharma
Thyro-Lab contains 25 mcg of Liothyronine Sodium and is brand product of 7Lab Pharm.
Specifications
Duration of Action: 1 Day
Recommended Dosage: 25-75 mcg/day
Acne Manifestation: No
Water Retention: No
High Blood Pressure: Yes
Aromatization: No
Hepatoxicity: No
Thyro-Lab from 7Lab Pharma is originally a hormonal drug (thyroid hormone drug), also widely used as a sports dope. In sports practice, it is effectively taken regardless of gender (men and women), age (over 18 years), level of physical fitness and experience with sports pharmacology (from beginners to experienced athletes). The purpose of acquiring this product, as a rule, is weight loss, so it is used mainly in cutting cycles.
Active substance in the composition of this drug is Liothyronine Sodium - a synthetic analogue of the natural hormone triiodothyronine (T3), the active form of thyroid hormones that has a major biological effect. Liothyronine has been approved for administration to humans, as: if the recommendations are followed, it differs predominantly useful over side effects; It is not a steroid, possessing androgenic properties, let alone a narcotic, addictive component.
Thyro-Lab with the correct construction and providence of the cycle as a sport's supplement develops the following effects:
It speeds up the metabolism;
Enhances heat production;
Burns fat;
Increases muscle density and shape;
Stimulates the central nervous system;
Reduces the need for sleep;
Increases physical performance.
Thyro-Lab reviews describe it only positively, since this product effectively copes with its tasks, bypassing most analogues, including pharmacological fat burners specially developed for sports.
It is important that Thyro-Lab acts in a natural way (like the natural thyroid hormone triiodothyronine - T3), without provoking reactions to the body. But where the power of action is, there are potential side effects, so it is extremely important to follow the recommendations established by experienced athletes and doctors. Otherwise, uncontrolled administration of this drug leads to the development of complications from increased sweating to bone osteoporosis.
Usage and Dosage
Effective doses of Thyro-Lab are selected individually by athletes only: the intake, as a rule, begins with a minimum amount of the drug (from 5-25-50 μg per day), and then gradually increase the volume (5-25-50 μg per day) until the optimal dosage. Such a regimen allows you to avoid the risk of insufficiency or, conversely, excessive product, which in both cases is fraught with consequences.
The duration of taking Thyro-Lab is also an individual issue, depending on the needs and tolerance of the substance by the body. On average, the course is continued up to 4-8 (6) weeks, which for most athletes is completely sufficient for the formation of pronounced results without provoking critical complications.
Thyro-Lab's solo cycle is a rare practice. To maximize progress in sports, athletes combine this drug with yohimbine, Cleno-Lab 40, even anabolic and androgenic steroids. Such courses allow you to achieve a powerful synergistic effect, but accordingly increase the risks of side effects, as a result, they are recommended mainly for experienced athletes.
In order for the solo or combined course of Thyro-Lab administration to be completed without problems, it is recommended that to be examined and consulted with a specialist in advance, eliminating possible contraindications: hypersensitivity to the components of the drug, untreated thyrotoxicosis, angina pectoris, myocardial infarction, myocarditis, cachexia, as well as untreated adrenal insufficiency - for both sexes.
Please log in to write Thyro-Lab review.
Balkan Pharmaceuticals
Thyroid Hormone
Active Ingredient:
Liothyronine Sodium
Concentration:
50 mcg / pill
Price For:
60 pills
Brand:
Balkan Pharmaceuticals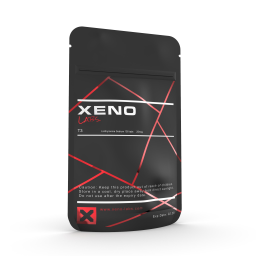 Dragon Pharma, Europe
Thyroid Hormone
Active Ingredient: Liothyronine Sodium
Concentration: 25 mcg / pill
Price For: 100 pills
Brand: Dragon Pharma
Kalpa Pharmaceuticals LTD, India
Thyroid Hormone
Active Ingredient:
Liothyronine Sodium
Concentration:
25 mcg / pill
Price For:
100 pills
Brand:
Kalpa Pharmaceuticals
Abdi Ibrahim, Turkey
Manufacturer: Abdi Ibrahim
Pharmaceutical name: Liothyronine Sodium
Pack: 100 tabs (25 mcg/tab)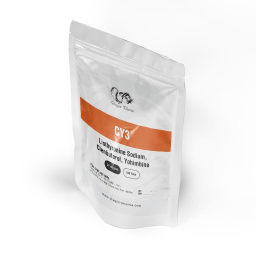 Dragon Pharma, Europe
Beta-2 Agonist, Thyroid Hormone
Active Ingredients:
- 37 mcg of Clenbuterol Hydrochloride
- 25 mcg of Liothyronine Sodium
- 5.4 mg of Yohimbine Hydrochloride
Mixed Concentration: 6.02 mg / pill
Price For: 100 pills
Brand: Dragon Pharma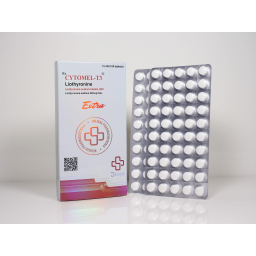 Beligas Pharmaceuticals
Thyroid Hormone
Active Ingredient: Liothyronine Sodium
Concentration: 25 mcg / pill
Price For: 50 pills
Brand: Beligas Pharmaceuticals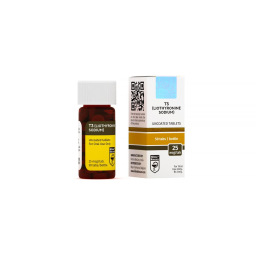 Hilma Biocare
Thyroid Hormone
Active Ingredient: Liothyronine Sodium
Concentration: 25 mcg / pill
Price For: 50 pills
Brand: Hilma Biocare