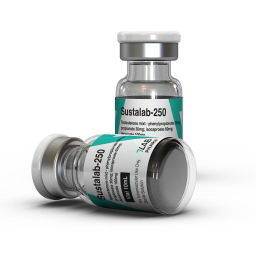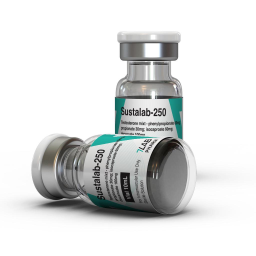 Injectable Steroids
Sustalab-250
Injectable Anabolic Androgenic Steroid
Active Ingredients:
- 30 mg of Testosterone Propionate
- 60 mg of Testosterone Isocaproate
- 60 mg of Testosterone Phenylpropionate
- 100 mg of Testosterone Decanoate
Mixed Concentration: 250 mg / mL
Price For: 10 mL Vial
Brand: 7Lab Pharm
Sustalab-250 Detailed
Original Sustalab-250 by 7Lab Pharma
Sustalab-250 contains 250 mg of Testosterone Mix and is brand product of 7Lab Pharm.
Specifications
Duration of Action: 7-8 Days
Recommended Dosage: 250 mg/week
Acne Manifestation: Yes
Water Retention: Yes
High Blood Pressure: Perhaps
Aromatization: Yes
Hepatoxicity: No
Sustalab-250 is an injectable steroid with a high anabolic effect and high androgenic activity. The active substance is a mixture of testosterone esters in oil. The composition of this composite preparation: testosterone decanoate 100 mg, testosterone phenylporopionate 60 mg, testosterone isocaproate 60 mg, testosterone propionate 30 mg. This drug activates protein synthesis, which ensures muscle growth, development and strengthening of bone tissue. Strength indicators are increasing. It does not show the effect of catabolism. Traces of active substances are detected within at least 4 months after the termination of its intake.
We sell exclusively high-quality pharmaceuticals. For example, you can verify that this steroid meets all quality requirements on the manufacturer's website.
Usage and Dosage
The use of Sustalab-250 in bodybuilding allows athletes to gain an increase in muscle mass and strength indicators. This drug activates the production of red blood cells, which transport oxygen through the blood. Saturation with oxygen helps to increase strength and endurance, increase efficiency, quick recovery. Water accumulation also increases muscle strength, and extra fluid in the joints makes their work easier.
At this time, 7Lab Pharm Sustalab-250 is one of the most effective androgenic steroids for gaining muscle mass with virtually no muscle loss effect. At the same time, quality will need to be worked on additionally, but the weight gain is so significant that for many bodybuilders, such a drug becomes the main component of bulking cycles.
The duration of a bulking cycle is 6-8 weeks with a weekly dosage of 250 - 750 mg. Experienced bodybuilders can increase the dose to 1000 mg. Without proper experience with taking steroids in general, and this drug in particular, you should not try to intensify the process by increasing the dosage. You should start with the minimum recommended, despite the fact that the price of Sustalab-250 is lower than the prices of similar steroid drugs.
Over an 8-week cycle of Sustalab-250, muscle gain on average is 8-10 kg. To increase weight gain, Sustalab-250 is effective to combine with Oxy-Lab, Dianobol-lab 20 and similar steroids. The abundance of testosterones increases the level of aromatization and the likelihood of side effects, but satisfaction from hyper-mass gain overlaps the psychological inconvenience of side effects. Moreover, they are eliminated with the help of Tamoxi-Lab or Proviron-Lab, which lower estrogen levels. Even better, taking such a composite steroid, buy Anastro-Lab. It is more expensive, but eliminates the effects of aromatization most effectively.
Athletes who are interested not only in volume, but primarily in high strength indicators, together with this steroid, buy Decalab-250 or a similar strong anabolic steroid with little or no androgenic effect.
This drug has a depressing effect on the body's own production of testosterone. This is especially noticeable during prolonged use with a high dosage and frequency. Therefore, at the end of the course, you must take Clomi-Lab or Tamoxi-Lab.
For adolescents who have not reached puberty, and women, this drug is not recommended due to strong manifestations of virilization. If, nevertheless, a female athlete decided to increase her sports level with the help of such an injection agent, the dosage should not exceed 250 mg, the frequency of injections should be once every two weeks, and the duration of the course should be no more than 6 weeks.
Novice athletes are wondering what the Sustalab-250 is, reviews about which they heard from friends, or read on the Web; How does it differ from similar drugs, in particular from Sustanon? The composition of the active substances, their concentration and the nature of the action of both drugs are the same.
References
Sustalab-250 Reviews
Please log in to write Sustalab-250 review.