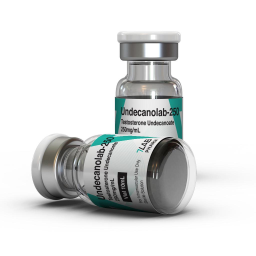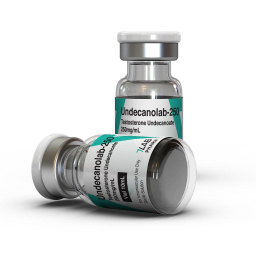 Injectable Steroids
Undecanolab-250
Androgen; Anabolic Steroid; Androgen Ester
Active Ingredient: Testosterone Undecanoate
Concentration: 250 mg / mL
Price For: 10 mL Vial
Brand: 7Lab Pharm
Undecanolab-250 Detailed
Original Undecanolab-250 by 7Lab Pharma
Undecanolab-250 contains 250 mg of Testosterone Undecanoate and is brand product of 7Lab Pharm.
Specifications
Duration of Action: 1-12 Days
Recommended Dosage: 250-1000 mg/week
Acne Manifestation: Yes
Water Retention: Yes
High Blood Pressure: Perhaps
Aromatization: Yes
Hepatoxicity: No
Testosterone is a male sex hormone that is produced in testicles and cortex of adrenal glands. In small quantities, it is produced in female body. Testosterone is responsible for the formation of genital organs in boys and other male characteristics.
With insufficient secretion, man's inherent masculinity is not so clearly expressed. Therefore, along with therapeutic practice, testosterone is also used in bodybuilding.
Undecanolab-250 is a steroid with very high anabolic rates, which is especially important for athletes seeking to increase strength and muscle mass.
Undecanolab-250 is based on the natural androgen, testosterone, and is its ester. It is available in several forms: in form of a solution for injection, which is injected intramuscularly; in form of gelatin capsules. In ampoules - a transparent oil solution, in 1 ml of which contains 250 mg of active substance.
Due to oil, like dietary fats, it is absorbed through the lymphatic system, without being exposed to the damaging effects of liver enzymes. Undecanolab-250 is a non-toxic drug, and its bioavailability is around 7%. After taking it, the level of testosterone in the body will be maintained during the day.
We note that it is actively used in bodybuilding and powerlifting to build muscle. This anabolic can reduce adipose tissue mass and, at the same time, increase lean body mass. It also stimulates bone growth, which is especially important with huge physical exertion in bodybuilding.
Usage of Undecanolab-250, like any other hormonal agent, should be done only after consulting a doctor - he will prescribe the desired dosage based on individual indicators. According to experienced athletes, taking testosterone undecanoate alone does not give a sufficiently pronounced effect, so it should be taken in combination with stronger anabolics.
Usage and Dosage
Indications for use are due to its high anabolic characteristics. In medicine, it is used for hormone replacement therapy to treat disorders caused by primary or secondary testosterone deficiency, such as eunuchoidism, endocrine impotence, hypopituitarism, certain types of infertility resulting from impaired spermatogenesis, to enhance libido, to treat osteoporosis, which causes androgen deficiency. Undecanolab-250 is prescribed for transgender women who change gender to male in order to achieve masculinization.
The list of contraindications for use is quite serious:
androgen-dependent carcinoma of the prostate or breast;
past or present liver tumors;
hypercalcemia in combination with malignant tumors.
Contraindication is also hypersensitivity to any component of the drug, the main or auxiliary.
Possible Side Effects
Contraindications and side effects are described in detail in the instructions for use. One of the side effects that men usually don't complain about is an increase in libido and frequent erections. An increase in hemoglobin during intramuscular injections also cannot be considered a negative side effect, but others indicate a negative reaction to testosterone undecanoate:
appearance of nausea, headache and dizziness; increased appetite;
weight gain;
sleep disturbances;
feelings of anxiety, mood swings, irritability up to aggressiveness;
increased blood pressure, accompanied by hot flashes; shortness of breath, bronchitis, sinusitis, diarrhea is possible;
dry skin, itching, skin rashes; muscle tension and pain in the limbs.
With extreme caution, this drug is prescribed to adolescents, in whom it can cause an increase in the genital organs and sexual development.
Dosage and administration
For a stronger anabolic effect, the daily dose is increased to 250 mg, however, it is necessary to carefully monitor the state of health due to the risk of adverse reactions. This allows you to maintain a sufficient level of testosterone in the body and, at the same time, prevent its accumulation. An independent increase of dosage is unacceptable, as it can cause the development of the above negative effects.
References
Please log in to write Undecanolab-250 review.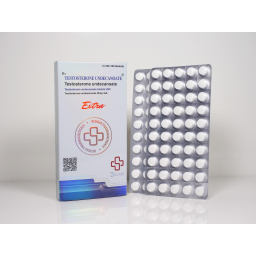 Dragon Pharma, Europe
Androgen; Anabolic Steroid; Androgen Ester
Active Ingredient: Testosterone Undecanoate
Concentration: 250 mg / mL
Price For: 10 mL Vial
Brand: Dragon Pharma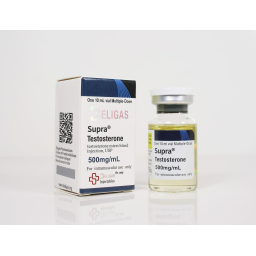 Beligas Pharmaceuticals
Injectable Anabolic Androgenic Steroid
Active Ingredient: Testosterone Mix
Concentration: 500 mg / mL
Price For: 10 mL Vial
Brand: Beligas Pharmaceuticals