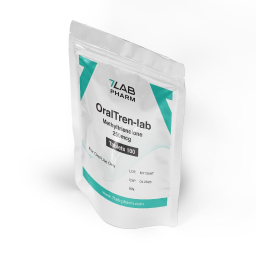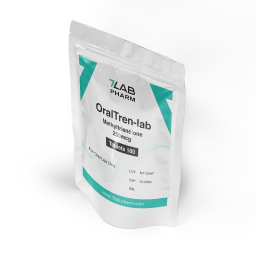 Oral Steroids
OralTren-Lab
Androgen; Anabolic Steroid; Progestogen
Active Ingredient: Methyltrienolone
Concentration: 250 mcg / pill
Price For: 100 pills
Brand: 7Lab Pharm
OralTren-Lab Detailed
Original OralTren-Lab by 7Lab Pharm
OralTren-Lab contains 250 mcg of Methyltrienolone and is brand product of 7Lab Pharm.
Specifications
Duration of Action: 6 Hours
Recommended Dosage: 0.5-5 mg/day
Acne Manifestation: Yes
Water Retention: Yes
High Blood Pressure: Perhaps
Aromatization: No
Hepatoxicity: Very High
OralTren-Lab is the most powerful oral steroid ever made. This drug is a close relative of trenbolone and differs only in 17-alpha alkylation. This modification makes it significantly more powerful than trenbolone.
It is 120-300 times stronger than methyltestosterone. This is the most powerful steroid available on the market, a dose of 0.5-1 mg is already enough for an explosive anabolic effect.
Usage and Dosage
For Men:
OralTren-Lab has not been approved for use in humans. This drug is not recommended for improving physical fitness due to its high hepatotoxicity. Those who really want to use this drug should take its toxicity seriously. Regular blood tests are needed to ensure that this drug does not damage liver.
This drug is not used for more than 4 weeks. For a clear anabolic effect, 0.5 mg of the drug is enough. Dosages can range from 0.5 mg to 2 mg per day. It must be emphasized once again that there are many safer drugs.
OralTren-Lab is the drug that is best left alone.
For Women:
It is not recommended for women because of its extremely strong toxicity and tendency to cause virilization phenomena.
Side Effects
OralTren-Lab is a c17 alpha alkylated drug. This change protects the drug from liver decontamination, allowing a larger percentage of the drug to enter the bloodstream after oral administration. Alkylated AAS may be hepatotoxic. Reception for a long time or in large doses can lead to liver damage. In rare cases, life-threatening dysfunction may develop. It is advisable to periodically visit a doctor during course to monitor liver function.
This steroid can have a harmful effect on blood cholesterol. This may be a decrease in the level of "good" HDL, a shift in the balance towards the risk of atherosclerosis. The relative effect on lipids depends on dose, route of administration, type of steroid and level of resistance to hepatic metabolism.
This steroid can have a negative effect on blood pressure and triglycerides, reduce relaxation of the vascular endothelium, and provoke hypertrophy of the ventricles of the heart, which will potentially increase the risk of cardiovascular disease and heart attack. To reduce the burden on the cardiovascular system, it is recommended to minimize the intake of saturated fats, cholesterol and simple carbohydrates during the course. Supplements such as fish oil, stable lipid or similar foods are recommended.
Referrers
OralTren-Lab Reviews
Please log in to write OralTren-Lab review.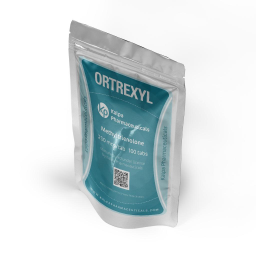 Kalpa Pharmaceuticals LTD, India
Androgen; Anabolic Steroid; Progestogen
Active Ingredient:
Methyltrienolone
Concentration:
250 mcg / pill
Price For:
100 pills
Brand:
Kalpa Pharmaceuticals
Ice Pharmaceuticals
Androgen; Anabolic Steroid; Progestogen
Active Ingredient: Methyltrienolone
Concentration: 1 mg / pill
Price For: 60 pills
Brand: Ice Pharmaceuticals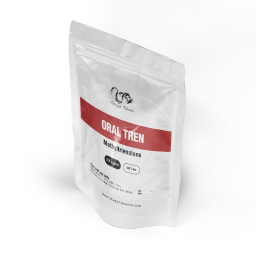 Dragon Pharma, Europe
Androgen; Anabolic Steroid; Progestogen
Active Ingredient: Methyltrienolone
Concentration: 250 mcg / pill
Price For: 100 pills
Brand: Dragon Pharma