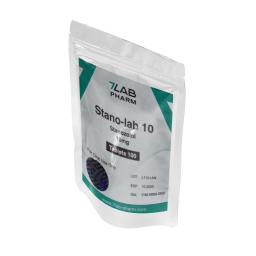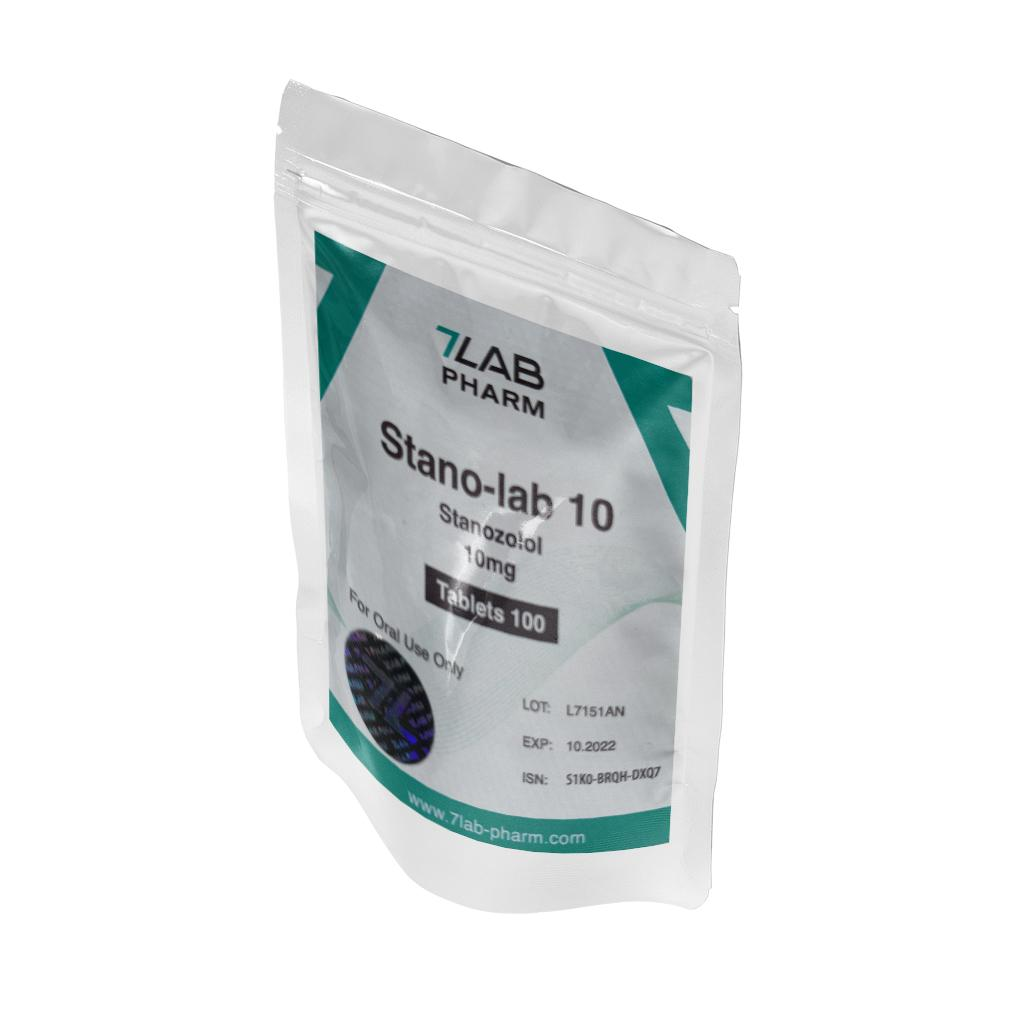 Oral Steroids
Stano-Lab 10
Androgen; Anabolic Steroid
Active Ingredient: Stanozolol
Concentration: 10 mg / pill
Price For: 100 pills
Brand: 7Lab Pharm
BEST BEFORE
exp. date: 10.2022
Stano-Lab 10 Detailed
Original Stano-Lab 10 by 7Lab Pharm
Stano-Lab 10 contains 10 mg of Stanozolol and is brand product of 7Lab Pharm.
Specifications
Duration of Action: 9 Hours
Recommended Dosage: 10-20 mg/day
Acne Manifestation: Yes
Water Retention: No
High Blood Pressure: Perhaps
Aromatization: No
Hepatoxicity: Yes
Stano-Lab 10 from 7Lab Pharm is one of the most popular forms of Stanozolol. This is an oral drug, has moderate androgenic activity (one third of testosterone) and high anabolic (320% of testosterone). Stanozolol was developed back in 1962. It was initially used on animals, but was soon approved by the FDA (Food and Drug Administration in the United States) and began to rapidly gain popularity among athletes.
Probably the most famous doping scandal in the history of sports was associated with the use of this drug. At the 1988 Olympics in Seoul, sprinter Ben Johnson, who won the 100m finals with a new world record, was disqualified for using Stanozolol. Stano-Lab 10 is an excellent tablet with high bioavailability and resistance. Due to the presence of an alkyl group in alpha-17 position, it does not break down in the liver, however, this same property makes it toxic.
Main Effects
Improves the shape of muscle tissue, and because of this it is very often used by bodybuilders when preparing to competitions.
Increases stamina and strength.
Removes excessive water from the body. It is often used together with Dianobol-lab 10.
Speeds up metabolism and improves appetite.
Strengthens the action of other anabolic steroids. Stanozolol doubles the level of globulin, which increases the bioavailability of the drugs taken.
Antiprogestant and antiestrogenic effects.
Stanozolol is mainly used during the cutting period. Since the property of not retaining water and giving muscles shape is quite rare for anabolic steroids, the use of Stano-Lab 10 is very popular among athletes and bodybuilders. Also in smaller dosages women often use it.
Usage and Dosage
Stano-Lab 10 solo cycle is advisable to use to improve strength without mass gain. Stanozolol is ideal for people with moderate fat content and adequate body weight. The dosage is individual and ranges from 10 mg (for athletes) to 50-60 mg per day. Stano-Lab cycle lasts no more than 8 weeks, otherwise the risk of liver damage increases.
Experienced athletes answer the question - how to take Stano-Lab 10 unanimously - only in combination with testosterone. Stanozolol substance itself is quite soft, muscle mass from it grows very slowly, but at the end of the cycle muscle loss practically does not occur. Stanozolol is actively used by women: athletes are recommended daily dosage of 5-10 milligrams.
Possible Side Effects
If the recommended dosage is exceeded, joint pain can occur (due to the ability of stanozolol to remove water), increased blood pressure, cholesterol, hair loss, acne and liver damage. There are no side effects from Stano-Lab 10 if you adhere to the dosages recommended in the instructions and the duration of administration. Together with Stano-Lab 10 tablets, hepatoprotectors can be included in the course, or they can be used in post-cycle therapy.
High-quality mass, minimal muscle loss, affordability and low price, as well as the absence of side effects - these are the main reviews about Stano-Lab 10 from 7Lab Pharm. Track and field athletes note the usefulness of using this drug as an agent for the main starts of the season, wrestlers and boxers can increase strength without changing weight category. Numerous positive reviews about Stano-Lab 10 leave no doubt about its effectiveness and safety.
Referrers
Stano-Lab 10 Reviews
Please log in to write Stano-Lab 10 review.