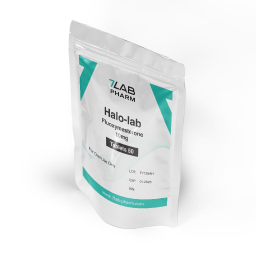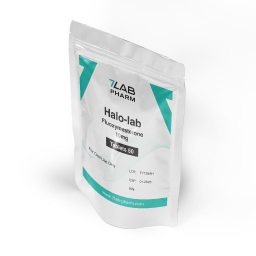 Oral Steroids
Halo-Lab
Androgen; Anabolic Steroid
Active Ingredient: Fluoxymesterone
Concentration: 10 mg / pill
Price For: 50 pills
Brand: 7Lab Pharm
Halo-Lab Detailed
Original Halo-Lab by 7Lab Pharm
Halo-Lab contains 10 mg of Fluoxymesterone and is brand product of 7Lab Pharm.
Specifications
Duration of Action: 9 Hours
Recommended Dosage: 10-40 mg/day
Acne Manifestation: Yes
Water Retention: No
High Blood Pressure: Perhaps
Aromatization: No
Hepatoxicity: High
Testosterone cycle did not give the desired result, and caused disappointment in steroids? Halo-Lab from 7Lab Pharm brand, one of the most powerful oral steroids with high anabolic and androgenic activity, will help increase strength and shape, restore motivation for training and improve performance.
The main substance in this durg is Fluoxymesterone, which is a modification of testosterone. It is often used by professional athletes and bodybuilders in preparation for competitions. If you buy Halo-Lab, then you can not only significantly increase the strength and growth of results, but also get a significant increase in aggression and motivation for training.
In terms of anabolic parameters, this steroid is 20 times higher than testosterone, and in terms of androgenic - 8-9 times. Despite the lack of reliable studies on detailed work of Fluoxymesterone, presumably this substance affects the muscles in a non-receptor way.
With proper use, Halo-Lab has a significant effect on body and muscle fibers:
Pronounced burning of subcutaneous fat;
Ensuring maximum concentration on the result;
A significant increase in aggression and motivation for training;
Increased erythropoietin production and hemoglobin synthesis;
Increasing muscle density and rigidity, improving their shape.
Fluoxymesterone was originally synthesized for medical purposes - treatment of breast cancer in women and delays in sexual development in men. However, it is now used only for sports and bodybuilding - in the final stages of preparation.
An interesting fact: this drug is widely used both in martial arts and in athletics, team sports.
Side Effects
The body suppresses the production of its own testosterone hormone, prostate disease, strong sexual stimulation and frequent erection, increased aggression, oily skin, body hair and appearance of acne. However, this is characteristic for cases when athletes exceeds the normalized dosage or the recommended duration of the cycle.
The only drawback of this drug is its high price, but it quickly pays off due to the quality of the result.
Usage and Dosage
For beginners and amateurs, it is not recommended to take more than 10 mg per day, and for professional athletes or experienced bodybuilders - 15-20 mg. Pills are taken orally, and the course itself lasts 4-6 weeks, where the specific period depends on the athlete's indicators, health status and the desired result. In this case, the course of this drug can be combined with any esters of testosterone or nandrolone.
Due to the high level of activity, it is not recommended that the admission fall out on the training process, since there are lighter drugs for it. The same goes for women: Halo-Lab is strictly prohibited even to professional athletes.
Another application is not a course, but a one-time use before the most important competitions.
This drug has proven itself in the circle of professional athletes, although this is not widely publicized due to doping control in many directions. This makes it popular among both amateur and professional bodybuilding or activities for yourself.
Tip: Health-friendly products suitable for use during training can be found in the 7Steroids' catalog. You can buy Oxy-Lab and other steroids from us.
Referrers
Halo-Lab Reviews
Please log in to write Halo-Lab review.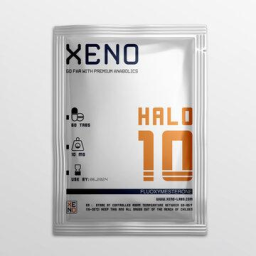 Dragon Pharma, Europe
Androgen; Anabolic Steroid
Active Ingredient: Fluoxymesterone
Concentration: 10 mg / pill
Price For: 100 pills
Brand: Dragon Pharma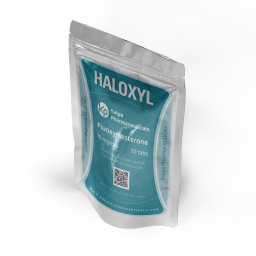 Kalpa Pharmaceuticals LTD, India
Androgen; Anabolic Steroid
Active Ingredient:
Fluoxymesterone
Concentration:
10 mg / pill
Price For:
50 pills
Brand:
Kalpa Pharmaceuticals
Balkan Pharmaceuticals
Androgen; Anabolic Steroid
Active Ingredient:
Fluoxymesterone
Concentration:
10 mg / pill
Price For:
100 pills
Brand:
Balkan Pharmaceuticals
Sciroxx
Androgen; Anabolic Steroid
Active Ingredient:
Fluoxymesterone
Concentration:
10 mg / pill
Price For:
100 pills
Brand:
Sciroxx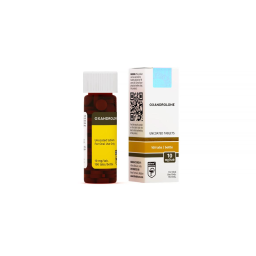 Hilma Biocare
Androgen; Anabolic Steroid
Active Ingredient: Oxandrolone
Concentration: 10 mg / pill
Price For: 100 pills
Brand: Hilma Biocare