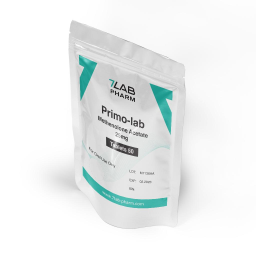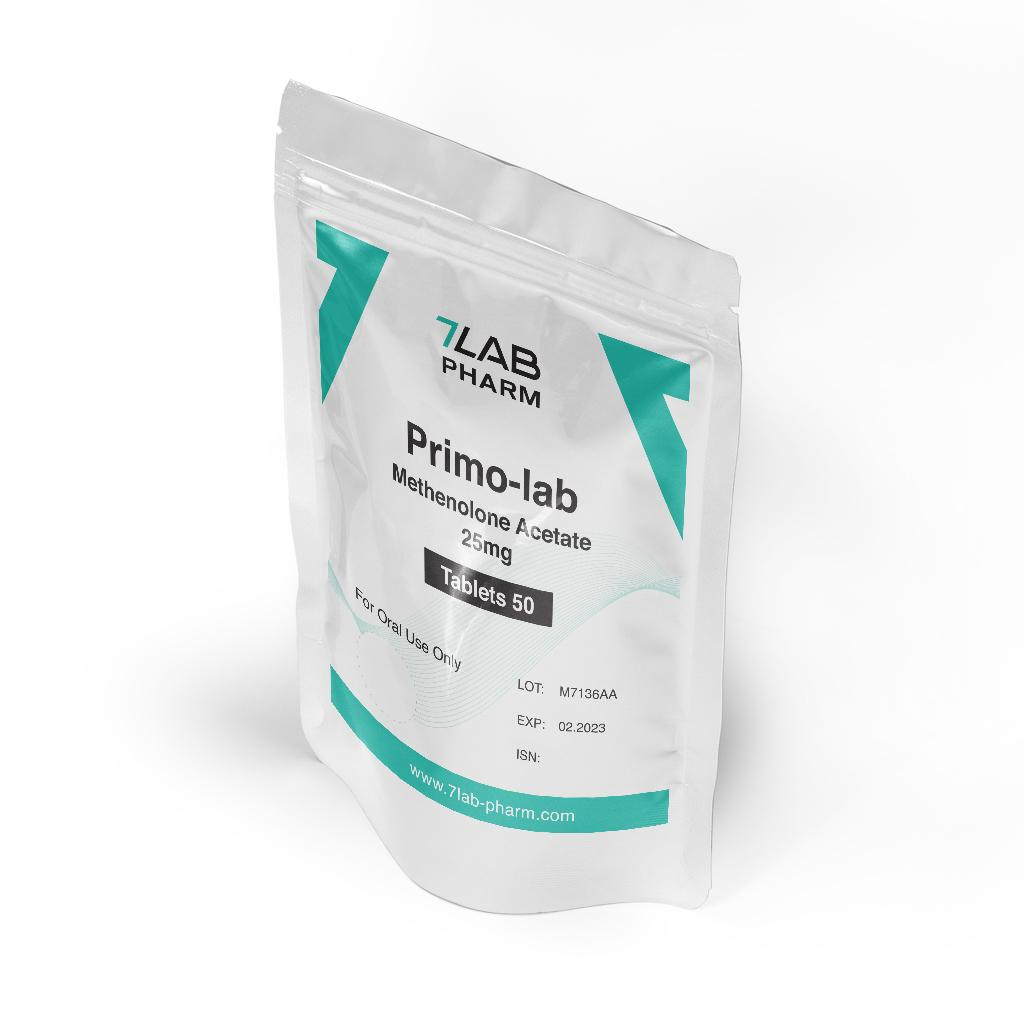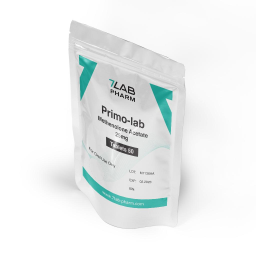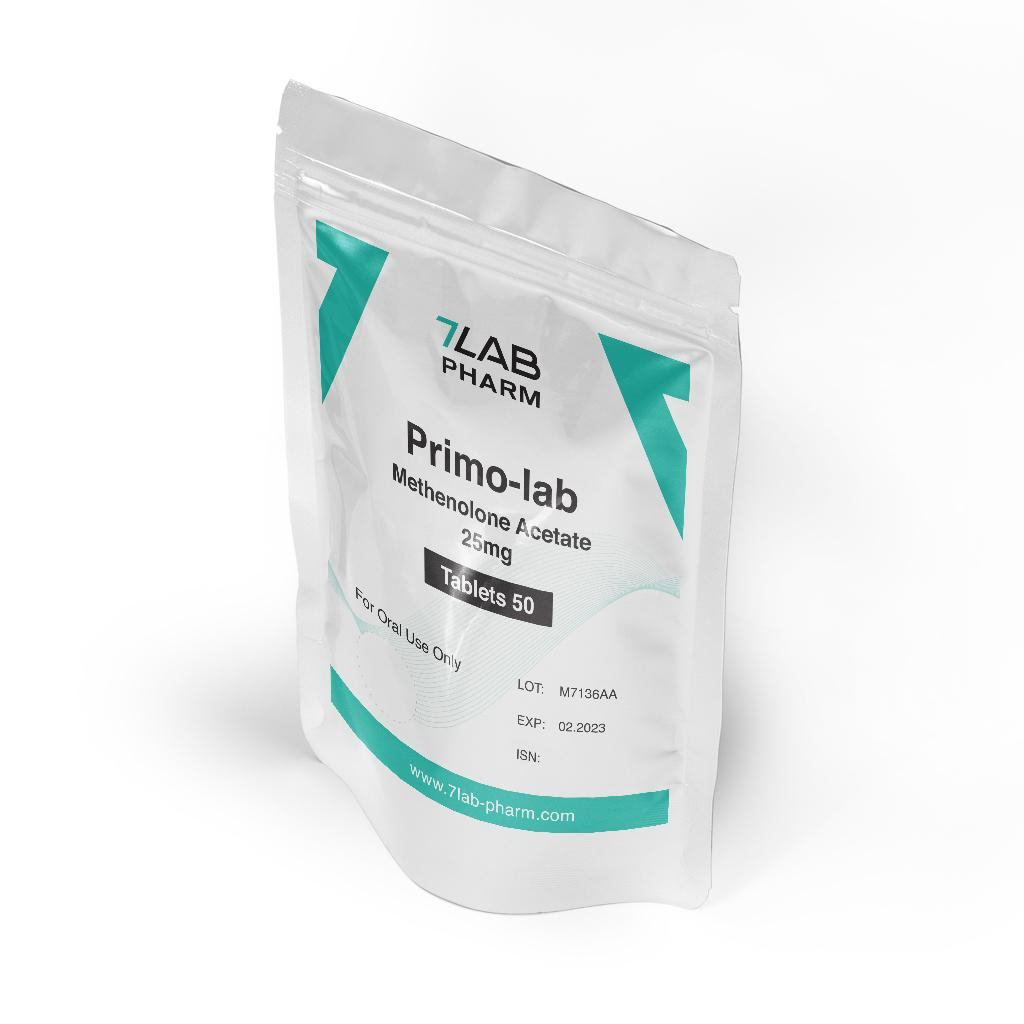 Oral Steroids
Primo-Lab
Androgen; Anabolic Steroid; Androgen Ester
Active Ingredient: Methenolone Acetate
Concentration: 25 mg / pill
Price For: 50 pills
Brand: 7Lab Pharm
Primo-Lab Detailed
Original Primo-Lab by 7Lab Pharm
Primo-Lab contains 25 mg of Methenolone Acetate and is brand product of 7Lab Pharm.
Specifications
Duration of Action: 2-3 Days
Recommended Dosage: 100-150 mg/day
Acne Manifestation: Yes
Water Retention: Low
High Blood Pressure: Perhaps
Aromatization: No
Hepatoxicity: Low
Primo-Lab in tablets is a good alternative to the injectable form of this steroid - Primalab-100. If you do not like injections, then you will definitely like this steroid.
Primo-Lab tablets, like its injectable form, refers to light steroids. When using it, you are asured against manifestation of various side effects. Main active component of this drug is methenolone acetate. Note that this steroid has weak androgenic properties and strong anabolic effects. This drug is very effective for gaining high-quality muscle mass and giving muscles a refined shape, improves vascularity and rigidity.
Beginners can safely use Primo-Lab for their first cycle. Also, this anabolic can be used by women, and they can not worry about their health. Compared to other oral steroids, Primo-Lab is not harmful to liver. Below we will talk about how to use it. And now it must be noted that the term of exposure of this drug into the body is 5 hours, and it can be detected within a month and a half.
Main Effects
For many athletes, an important feature of this steroid is the lack of a tendency to aromatize. Often, this fact is crucial to buy Primo-Lab in tablets. The main purpose of this anabolic is to give muscles a shape, although in combination with other steroids it is also used to gain mass. Now consider these effects, which can be obtained after Primo-Lab cycle:
Lean muscle growth;
Improves quality of muscles, giving them a shape;
Physical characteristics increases;
Metabolic processes are activated;
Helps to preserve the results obtained on cycle.
Usage and Dosage
The duration of a cycle on this drug, as a rule, does not exceed two months. We have already said that most often this steroid is used during cutting, and this especially applies to the solo use of this drug. Use it in an amount of 50 to 100 mg throughout the day. Post-cycle therapy can be started already on the third day after the last steroid intake.
Excellent results can be achieved by using combined cycles. Decalab-250, Testolab-P 100, Dianobol-lab 10 and Sustalab-250 are best suited for this. During the drying period, to increase the effectiveness of your cycle, you can add Stanolab-50, Boldelab-200, Mastolab-100 to its composition.
Referrers
Please log in to write Primo-Lab review.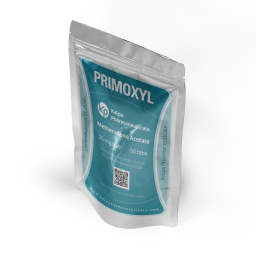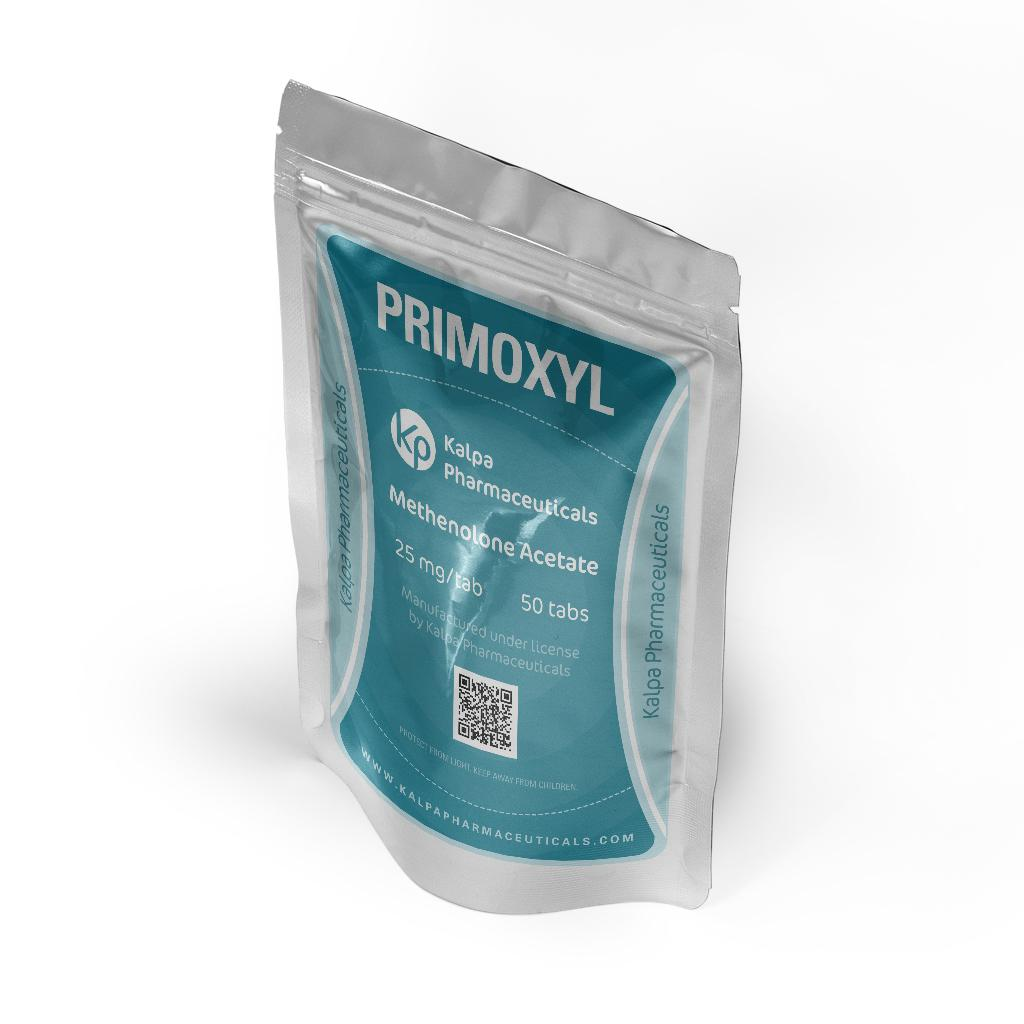 Kalpa Pharmaceuticals LTD, India
Androgen; Anabolic Steroid; Androgen Ester
Active Ingredient:
Methenolone Acetate
Concentration:
25 mg / pill
Price For:
50 pills
Brand:
Kalpa Pharmaceuticals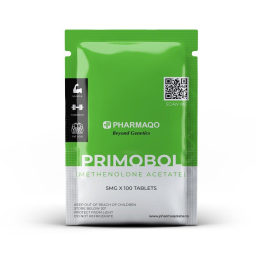 Balkan Pharmaceuticals
Androgen; Anabolic Steroid; Androgen Ester
Active Ingredient:
Methenolone Acetate
Concentration:
50 mg / pill
Price For:
60 pills
Brand:
Balkan Pharmaceuticals