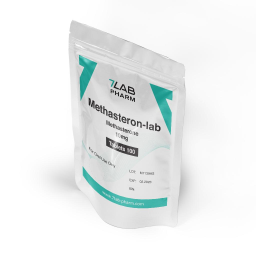 Oral Steroids
Methasteron-Lab
Oral Anabolic Androgenic Steroid
Active Ingredient: Methasterone
Concentration: 10 mg / pill
Price For: 100 pills
Brand: 7Lab Pharm
Methasteron-Lab Detailed
Original Methasteron-Lab by 7Lab Pharm
Methasteron-Lab contains 10 mg of Methasterone and is brand product of 7Lab Pharm.
Specifications
Duration of Action: 8 Hours
Recommended Dosage: 10-30 mg/day
Acne Manifestation: Yes
Water Retention: Yes
High Blood Pressure: Perhaps
Aromatization: No
Hepatoxicity: Very High
Methasteron-Lab is another steroid manufactured by 7Lab Pharm which is characterized by high anabolic activity. Nevertheless, many athletes choose this steroid in courses designed to improve quality and give muscle muscularity and athletic appeal. It is worth noting the fact that Methasterone belongs to the c-17-alpha-methyl group, which means that during a course, the active components are better absorbed by the body.
It is worth noting the fact that Methasteron-Lab produced by 7Lab is known to many athletes. Many of them note that in the case of taking this drug in accordance with the prescriptions of a specialist, it helps you to achieve your goals without significant harm to your body. However, taking it at the maximum or at exceeding dosages can cause hepatotoxicity.
Of the advantages from such a course, the following can be distinguished:
Improves muscles' shape and athletic appeal;
Acceleration of fat breakdown;
A slight increase in quality muscle mass.
Our site sells Methasterone 10 mg (100 tabs) on very favorable terms for both regular customers and wholesale customers.
Usage and Dosage
Given the fact that this drug has a hepatotoxic effect on liver, it should be taken with great care. On average, experts recommend that athletes should take this drug in a dosage that does not go beyond 10-30 mg per day. The duration of such course for athletes should not be more than 2-4 weeks. Moreover, the duration of admission directly depends on whether there is a need to take hepatotoxic drugs or not. In courses designed for cutting, it is enough to take 5 - 10 mg per day.
However, a more accurate dosage and duration of the course is best clarified by a specialist. If a specialist has prescribed a high dosage, it is better to divide it into several doses, this will avoid side effects and get the desired result from the course.
It is worth noting that Methasteron-Lab produced by 7Lab Pharm is well combined with other anabolics. Moreover, the most popular courses, taking into account the numerous reviews, are a combination of this steroid with: Decalab-250, Boldelab-200, Trenolab-H 100, Primalab-100.
Our online store 7Steroids offers the best price on Methasteron-Lab of European quality. One package of this drug contains a sachet with 100 tablets. One tablet contains 10 mg of the active ingredient. We always have genuine Methasterone and other anabolic steroid products at the best prices.
Referrers
Please log in to write Methasteron-Lab review.
Dragon Pharma, Europe
Oral Anabolic Androgenic Steroid
Active Ingredient: Methyldrostanolone
Concentration: 10 mg / pill
Price For: 100 pills
Brand: Dragon Pharma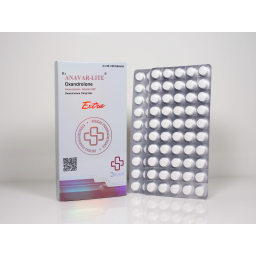 Beligas Pharmaceuticals
Androgen; Anabolic Steroid
Active Ingredient: Oxandrolone
Concentration: 10 mg / pill
Price For: 50 pills
Brand: Beligas Pharmaceuticals